Introducing Aquagold® THE GOLDEN COCKTAIL FACIAL


# of visits = as needed

Time = 15 minute treatments

Cost - € dependant on which blend of ingredients used
AQUAGOLD® - The luxury 24-carat gold facial device to deliver a personalised blend of skincare. Favoured by the Hollywood elite including Kim Kardashian, this innovation uses 24-carat gold screw thread micro-injection needles to deliver a bespoke cocktail of skin ingredients for an instant glow. This is a professional use, intradermal delivery device. Only those licensed to use neurotoxins (doctors in Ireland) and fillers can administer the AQUAGOLD ® Treatments.
Aquagold Fine Touch is a new revolutionary delivery mechanism, a patented one of a kind delivery tool for biologics to provide a truly customised treatment - CE marked and FDA approved. The patented screw thread needle technology guarantees 1000 intra-dermal micro-injection sites, the spiral threaded micro channels infuse custom cocktails with a droplet splaying effect.
EXPERIENCE CLINICAL LUXURY
Aquagold Fine Touch is a new category of delivery device that has no downtime, only mild redness, it treats the skin evenly with a greater coverage. Skin is left fresher and more radiant, while avoiding common complications or risks associated with more traditional techniques that can leave the skin inflamed, irritated, dry, bumpy, bleeding and prone to breakouts.
Aquagold Fine Touch allows for alternative uses of injectables such as Botox and fillers to achieve whole-face rejuvenation. "Microbotox" or "Mesobotox" is a term used for the application of botulinum toxin injection into the dermis of the skin rather than into the muscle. Microbotox or Mesobotox treats larger areas of dermis with dilute botulinum toxin, diluted with products such as hyaluronic acid. Using Botox with the Aquagold has many advantages and can be used on all skin types. It can decrease oil production, improve acne and enlarged pores, it can improve ageing skin with fine lines and wrinkles, it can treat close to the eye area successfully and comfortably, it can cover large treatment areas for an over all skin tightening, rejuvenation and plumping effect.
Unlike dermal rolling there is no dragging or micro tears made to the skin, this reduces the chance of bleeding and excess redness after the procedure. Aquagold's needles are administered perpendicular to the skin, therefore it's a more gentle treatment that is better at delivering ingredients into the dermis, stimulating cellular renewal in the upper layer of the skin.
Where do Toxins & Fillers come into it?
AQUAGOLD® fine touch™ 24 ct gold-plated needle system, each needle thinner than a human hair painlessly delivers custom solutions into the skin at the ideal 600 micron depth. This is a fantastic innovation in micro-channeling technology, a first of it's kind. Pain-free application ensures your comfort even when we treat sensitive areas normally associated with discomfort.
KEY FEATURES:
– Patented delivery system with greater coverage (1000 micro-injection sites)
– Pain-free with no bleeding
– Delivery to sensitive areas
– Treats closer to the eyes
– Creates smooth skin texture / tone with dermal micro-hyaluronic gel
– Enhance laser treatments with micro-serums, containing growth factors and vitamins
– Perioral, Periocural, Forehead, Neck, Back of Hands, Décolleté
– Simple quick direct dermal application
– Impactful results
– 99.9% pure gold-plated micro-channels
– No risks, no downtime unlike injection based mesotherapy techniques
Hyaluronic acid fillers

Neurotoxin such as Botox or Dysport

Growth factors for cellular renewal

PRP

Pigment reducers

Vitamins complex and mesotherpay

Stem Cells

nano-peptide active ingredients
The choice of ingredients delivered with aqua gold is decided with Dr. Kelleher based on the issues and areas you would like addressed. The treatment is entirely personalised based on your skin type, areas of concern and your goals.
A very popular and well received treatment is aquagold and a neurotoxin to address fine lines and wrinkles in the peri-orbital region. Aquagold is able to treat this area delicately and effectively, where your typical syringe injections are quite difficult to do.
what to expect from treatment?
This device allows us to effectively deliver toxins, hyaluronic gels, vitamins, stem cells and nano-peptide active ingredients into the skin without having to use numbing creams. Skin is rejuvenated and cells are regenerated at a deeper level, improving the quality and structure of the skin. Skin is left radiant and glowing. AQUAGOLD ® carries no risks and no-downtime unlike injection based techniques.
what Areas/Conditions can be treated?
Aquagold Fine Touch is a step up from traditional micro-needling procedures, dermal fillers or injections it delivers products into the skin, before mico-injuries begin to close.
Perioral

Periocural

Forehead

Neck

Back of Hands

Décolleté

Melasma & Pigmentation

Acne Scarring

Fine Lines & Wrinkles

Enlarged Pores & Excess Sebum

Brightens and Lightens

Clarifies / Refine

Hydrates & Rejuvenates

Hair Loss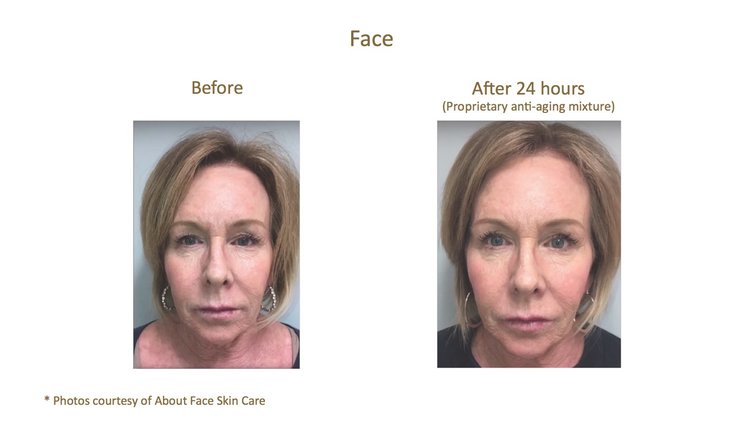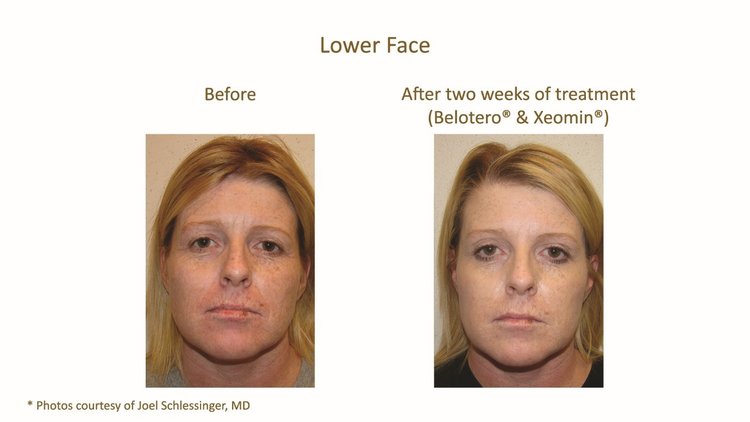 What can I expect to see after treatment?
Aquagold Fine Touch will:
• Smooth skin texture / tone with dermal micro-hyaluronic gel
• Shrink enlarged pores with micro-Botox
• Reduce sebum production in oily skin and T zones
• Improve superficial acne scarring with micro-hyaluronic gel
• Enhance laser treatments with micro-serums containing growth factors and vitamins
• Brighten and whiten skin with micro-pigment reducers
• Offer a painless procedure with minimal short-term redness